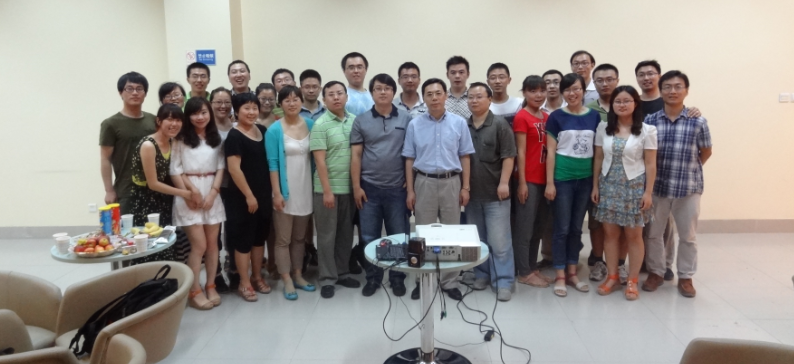 The Center insists on cultivation of personality as basis. In light of the advantages of faculty and project resources, students receive unified guidance and training opportunities. The students under supervision share resources of research, and utilize the same platform for training provided by the Center.
Advantages of talent training
Currently, on-the-study postgraduates of center are nearly one hundred annually, the training conditions provided by the center for students include:
Participating in research and development of national projects
Practicing advanced software and data management techniques
Attending domestic and international academic activities
Having the opportunity to get the excellent paper award
Taking part in various collective recreational activities
Having good employment prospects
More than 300 postgraduates including masters and PHDs are cultivated by the center. They are now recruiting by the information management departments of the government, Banks, securities, mobile communications and other financial and telecommunications sectors, famous high-tech enterprises at home and abroad, universities and research institutions. a number of our former students have grown as professors and subject leaders of universities and scientific research institutions or executives of large and medium enterprises.
Post Graduate Recruitment
3-4 doctoral candidate position are available each year, and meanwhile, master applicants are welcomed to contact PhD supervisors directly.
About 30 academic master positions are open every year.
Outstanding masters will be recommended to Dareway Software Co.,Ltd for internship.
Post Graduate Requirements
Candidates who have passion of the research and development in software and data engineering.
Math and program ability are preferred
The Center continue recruiting undergraduate interns from school of Computer Science and Technology, and Software College of Shandong University. The internship provides about 15 positions annually.
The main work of undergraduate interns is participating in the research and development of national, provincial and ministerial projects. In-depth training in the aspects of academic research, technology research and development, programming, etc. will be given
Undergraduate interns are mentored by the supervisor directly, takes part in the project work and enjoy the same benefit as those of post-graduate students.
Applicants are encouraged to contact the supervisors directly. The email addresses can be found on the center's website.
Each student will be allocated a supervisor. All students of the Center will share the resources of research and learning facilities on the same cultivation platform.
Welcome to Research Center of Software and Data Engineering!
Graduates' employment status
Master graduated in 1995 Yueping Jiang Dianping.com Vice President
Master graduated in 1999 Tengjiao Wang Peking University professor
Master graduated in 2000 Jun Gao Peking University professor
Master graduated in 2000 Bo Yang Bowie State University associate professor
Master graduated in 2001 Shuai Ma Beihang University professor
Doctor graduated in 2006 Kangkang Zhang Shandong University of Finance and Economics associate professor
Doctor graduated in 2006 Qi Sui The Research Institution of China Mobile project manager
Doctor graduated in 2009 Zhongmin Shang Zibo Vocational Institute department head
Doctor graduated in 2010 Yongquan Dong Jiangsu Normal University associate professor
Doctor graduated in 2012 Desheng Li Shandong University of Finance and Economics associate professor & deputy director of Network Information Center