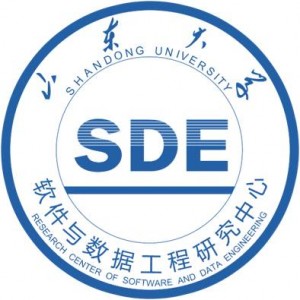 Research Center of Software and Data Engineering
The Center of Software and Data Science Engineering, Shandong University, was formerly the teaching and research section of database and application software founded in the early 1980s. With the development of more than 30 years, the staff of the Center continues to expand. There are 18 full-time faculties, including four Ph.D. supervisors, six full professors, and ten associate professors. The Center will address some of most pressing needs in data science and intelligent data analysis, data computing and cloud computing software architecture, e-commerce and business intelligence, etc.
The Center of Software and Data Engineering is the co-founder of National Engineering Laboratory for E-Commerce Technologies, Shandong Software Service Engineering Research Center and E-commerce Research Center of Shandong University. It is elected "outstanding innovation team of data integration and intelligent analysis" in Jinan. Our research has been supported by over 60 national, provincial and ministerial research projects, including the national 863 Program, the National Science and Technology Support Program key projects, the National Natural Science Foundation, the National Development and Reform Commission major projects, Ministry of Industry and Information Technology electronic fund key projects. A series of remarkable result has obtained in the research fields of Cloud Database, Cloud Computing PaaS Platform for Supporting Multi-tenant, Information Integration and Web Data Processing, Data Privacy Protection, Big Data Management and Analysis, Unbounded E-commerce, E-commerce Credible Transaction Security Technology. As the high evaluation of our work, the first prize of Shandong Province Science and Technology Progress Award and 7 second prize of Science and Technology Progress Award of Ministry of Education and Shandong province has been granted by the government authority. In addition, the Center has held more than 10 patent of inventions, and has published over 400 papers in leading domestic and international journals and conferences including TKDE, VLDB, CIKM, TPDS, TC, TCC, ICWS, JCST, Computer Journal, Software Journal, Science China. These studies have trained over 400 masters and doctors.
The Center has make outstanding achievements on the industrialization of science research by means of providing high quality software and services for the community through Dareway Software Co.,Ltd, which combines Industry-University-Research deeply. The Center has completed a series of research and development software products, such as wise human resources and social security, vocational qualification service and operation platform for multi-industries, intelligent master station system of electric power demand side manage, large scale information collection and processing platform of intelligent electricity, public service platform of electronic commerce credible transaction security and other application software products, which are competitive in the country. The number of software users has covered nearly every family nationwide. The benefits generated by the software have significant impact on the economy and social community.